Amanda Robinson, LPN Flow Coordinator in the Emergency Department at St. Joseph's Health Hospital. Amanda received her LPN licensure in 2014 and she's been a part of the St. Joe's team for four years.
"My favorite part of working at St. Joseph's emergency department is the fast-paced environment," she says. "I love the variety every day brings. Every day is an unexpected adventure. I love the environment at St. Joseph's and the camaraderie of our ED team. Everyone plays a part in the caring for the patients."
Amanda is taking advantage of St. Joe's tuition reimbursement and is currently enrolled in the RN program at Le Moyne College and will graduate in December of 2022. Then, she plans to complete her BSN in April 2023.
"St. Joseph's has supported my career path with the opportunity to be part of the leadership team," she says. "As the LPN Flow Coordinator, I feel I can make real change in everyday assignments."
Amanda's smile and positive energy has a tremendous effect on those around her.
"I continue to stay with St. Joseph's because of the sense of community and belonging. It matters! The people who work here want to be here, love serving our community, and being here for each other."
We look forward to Amanda taking the next step as Registered Nurse in the emergency department.
Interested in joining Amanda? Check out the opportunities for LPNs, RNs, and more.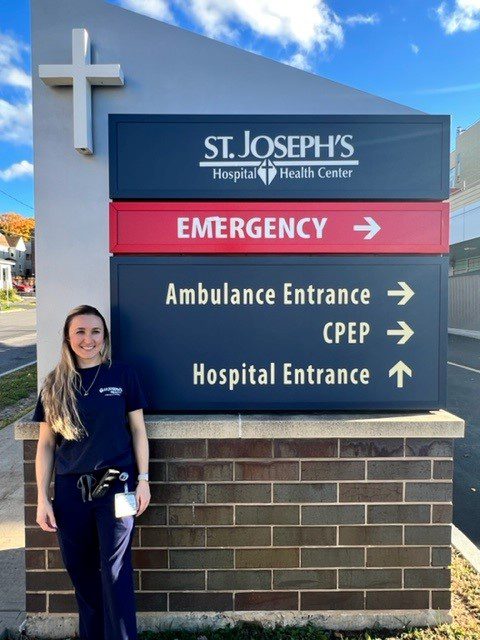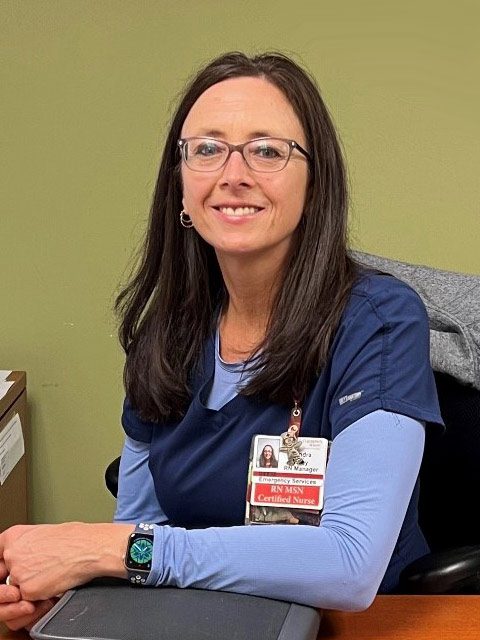 Meet Sandy Wiley, manager of St. Joseph's Health Hospital Emergency Department. Sandy joined the St. Joseph's family in 2006. She has always worked in the ED but has had several roles – bedside RN, triage, and charge nurse. Sandy transitioned to an Administrative Coordinator for several years but returned to her roots in the ED in February of this year.  
"My favorite part of my job at St. Joseph's is my coworkers," Sandy said. "We have an exceptional team that works together to support one another no matter the situation or circumstance. The department has a true sense of family". 
Sandy obtained her associates degree in nursing from Cayuga Community College in 1995, her bachelor's degree in nursing from the University of Phoenix in 2006, and her master's degree in healthcare administration with a specialty in healthcare operations in 2019. She obtained her certification in emergency nursing in 2012. 
"St. Joseph's has supported my career path through the tuition reimbursement program, assisting me in obtaining my master's degree," Sandy said. "St. Joseph's also supports and promotes advancements from within giving me the opportunity to join the Emergency Department leadership team."
We are excited to see Sandy grow in her leadership role in the Emergency Department.
"I have worked at other hospitals in the Syracuse area throughout my 27 years of nursing and St. Joseph's stands out," she said. "I continue to stay here because it's where I belong. I genuinely care about the Emergency Department, my colleagues, and the community we serve. St. Joe's is a family. It feels like home".
Meet Melissa Dam, a Senior Talent Acquisition Partner at St. Joseph's Health. Melissa began her career at the St. Joseph's College of Nursing in 1980 and has been a nurse for 38 years. Throughout her journey, she has worked in a variety of areas including NICU, case management, cardiology, and Coordinator of 2-7 (now known as CVAU) for 13 + years. Melissa also participated in the EPIC project as an Instructional Designer and upon completion of the project, she attained her BSN from Roberts Wesleyan with tuition support and advanced her career to hiring manager. 
"I believe St. Joseph's has always been visionary, able to be prepared for the now and the future of the ever-changing healthcare environment," she said. "I loved being part of several transformational projects including our first MAGNET designation, EPIC and, of course, COVID! Many changes along the way were difficult and hard to understand. But in the long run, they were cutting edge and the changes benefitted the care we deliver and aligned with best practice." 
Melissa said she enjoys recruiting acute care nurses and sharing the accomplishments of nursing at St. Joseph's Health. 
"With my historical knowledge and wisdom gained here at St. Joseph's Health, the favorite part of my job is career coaching and assisting staff with problem solving within the organization," she said. "We have an exceptional staff who are very busy and dedicated to their patients. If I can make any part of their employment easier, whether it's an HR question/concern, computer/workday struggle or they just need someone to talk to and bounce career decision with, then I'm all in!"
Melissa is very loyal to St. Joe's. 
"I trust that our leaders have a reason and plan to keep us safe in practice and our patients free from harm. As a St. Joseph's employee, I value people and I am grateful for the many professionals who have valued me, taught me, and encouraged me along the way."